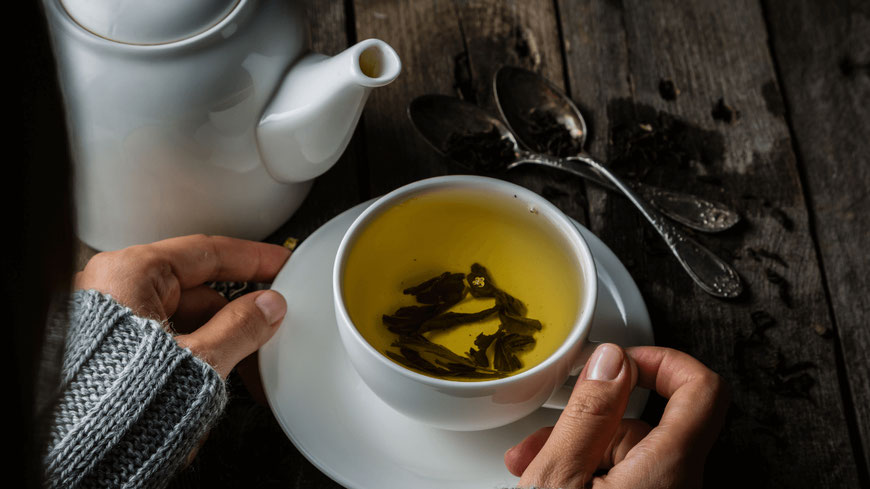 As a tea lover, you may be wondering if green tea contains caffeine. 
The short answer is YES. 
Eight ounces of green tea contains about 35-45 mg of caffeine, roughly 1/3 to 1/5 the amount of caffeine found in a cup of coffee. While green and black tea don't contain as much caffeine as coffee, medical professionals agree that tea is an excellent source of caffeine. 
Let's dive into green tea and caffeine. 
WHAT IS CAFFEINE AND WHERE IS IT FOUND?
Caffeine is an alkaloid that stimulates the central nervous system in humans. Its positive effects on the body include improving physical and mental performance and fighting drowsiness. 
Caffeine is naturally found in more than 50 types of plants, and it protects plants from invasive insects. The most popular plants that contain caffeine are cocoa, coffee, and tea. In other words: You can get a dose of caffeine from eating a chocolate bar, drinking your favorite latte, or sipping on a cup of tea. Many soft drinks like Coca-Cola and Pepsi, and several energy drinks, contain caffeine as well. 
HOW MUCH CAFFEINE IS IN GREEN TEA COMPARED TO OTHER DRINKS?
| | |
| --- | --- |
| TYPE OF DRINK | AMOUNT OF CAFFEINE  |
| Green Tea 8 oz | 35-45 mg |
| Matcha Tea 8 oz | 40-60 mg |
| Black Tea 8 oz | 40-70 mg |
| Oolong Tea 8 oz | 37-55 mg |
| White Tea 8 oz | 15-30 mg |
| Coffee 8 oz | 95-200 mg |
| Coca-Cola 12 oz | 34 mg |
Sources:http://www.garfieldmedicalcenter.com/GMC-Blog/2016/October/Different-Types-of-Tea-and-Caffeine-Content.aspx
https://www.coca-colaproductfacts.com/en/products/coca-cola/original/12-oz/
IS CAFFEINE IN GREEN TEA DIFFERENT FROM CAFFEINE IN COFFEE?
As seen above, green tea contains less caffeine that black tea or coffee. However, it's important to note that matcha tea, which is made by finely grinding green tea into a powder and is a popular drink these days, has slightly more caffeine content that regular green tea. 
Caffeine in high doses, as often found in coffee, can cause some people the "caffeine jitters." This comes in the form of restlessness, anxiety or sleeping issues. Green tea is a better alternative for people who need energy from caffeine, but want to avoid addiction and jitters. 
WHAT ARE THE HEALTH BENEFITS OF GREEN TEA? 
Green tea contains L-theanine, an amino-acid that relaxes the brain and reduces stress. A combination of L-theanine and caffeine helps the brain to reach a relaxed state of mindfulness, so you can stay focused and productive longer.
Caffeine from tea releases much slower than caffeine from coffee, which means you can feel the effects longer and do not experience spikes and drops of energy. 
In addition to caffeine, green tea has many health benefits. It contains antioxidants and polyphenols that help prevent cancer, reduce cholesterol and enable you to stay fit.
BOTTOM LINE.
·      Green tea contains less caffeine than black tea, coffee, soda and energy drinks.
·      Caffeine in green tea is mild.
·      Green tea can help reduce stress.
·      Green tea is good for your health.
     If you want a healthy, delicious, non-jittery drink with caffeine, your best bet is green tea. You'll love the taste and health benefits of green tea, and you won't regret it later!
---
Try Our Teas